What is Economic Development?
The image below is a snapshot of what economic development means to stakeholders in the WMSRDC region. It was generated with responses gathered during the series of SWOT Analysis Focus Groups held throughout the region in the fall of 2016. Click here to download the Regional SWOT Analysis Report.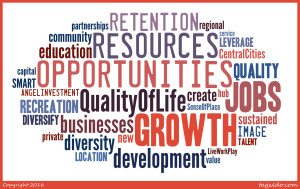 WMSRDC has been involved in economic development since its debut  in 1970. The Commission's economic development activities became more focused in 1975, when it was designated an Economic Development District (EDD) by the U.S. Department of Commerce, Economic Development Administration. This designation enables communities within the WMSRDC region to remain eligible for EDA funding programs. Since 1966, EDA has made over 40 investments in the WMSRDC region, including those in industrial park and infrastructure improvements, technology centers, technical assistance, and loans.