Muskegon Lake
Muskegon Lake is a Lake Michigan drowned river mouth, located in West Michigan, within the Great Lakes Coastal Marsh system. Formed by dynamic interactions of the Muskegon River and Lake Michigan's shifting sand dune shoreline, the lake is located within the largest assemblage of freshwater sand dunes in the world.
Muskegon River Watershed
Muskegon Lake is 4,323 acres in size. It spans five miles, from the mouth of the Muskegon River to Lake Michigan. Muskegon Lake is part of the Muskegon River Watershed, which encompasses 2,700 square miles. The Muskegon River is 219 miles in length. It is the second longest river and third largest watershed in Michigan.
Great Lakes Areas of Concern
Muskegon Lake was designated a Great Lakes Area of Concern (AOC) in 1985 by state and federal agencies because of several Beneficial Use Impairments (BUI). The BUIs were caused by historic industrial disposal practices and shoreline land use alterations and stormwater management practices that filled shallow shoreline waters and wetlands. The Muskegon Lake Remedial Action Plan was developed to address these concerns.
Stewardship
Since 1992, the Muskegon Lake Watershed Partnership, community groups, universities, governmental and nongovernmental organizations have worked collaboratively to improve water quality, remediate contaminated sediments and restore and protect fish and wildlife species and their habitats. Stakeholder forums and strong regional partnerships with the West Michigan Shoreline Regional Development Commission and GVSU Annis Water Resources Institute provide support to guide and sustain habitat restoration projects, including technical assistance for monitoring. The management actions contained in the Muskegon Lake AOC Remedial Action Plan (RAP) will be met in 2020 and the lake will be removed from the list of Great Lakes AOCs.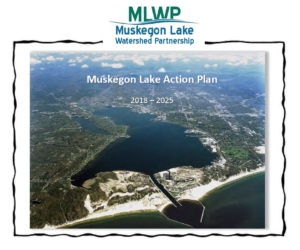 Muskegon Lake Action Plan
The Muskegon Lake Action Plan is a community-based plan, designed to advance the continued coordination of natural resources stewardship for Muskegon Lake and the Lower Muskegon River Watershed. It builds upon the restoration progress made under the Great Lakes Areas of Concern (AOC) program and other voluntary and regulatory cleanup programs. While the Muskegon Lake AOC process has been very effective, it was meant to bring Muskegon Lake to an environmental condition similar to other non-AOC water bodies. The Muskegon Lake EMP will seamlessly replace the RAP as the watershed community's guiding document for ecosystem management of the Muskegon Lake watershed and for the protection of its natural resources.
Please check out the Muskegon Lake Action Plan  and the implementation frameworks for three of its chapters:
Please also review these links:
Muskegon Lake Watershed Projects
These documents are being made available to assist in the evaluation of nine Beneficial Use Impairments (BUI) and to advance the removal of Muskegon Lake from the Great Lakes Areas of Concern (AOC) listing.