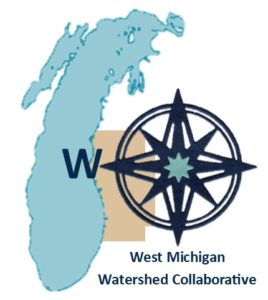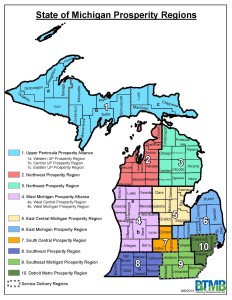 The Regional Prosperity Initiative
In 2014, the Michigan legislature approved the Regional Prosperity Initiative. The initiative encourages local private, public, and non-profit partners to work collaboratively to create vibrant regional economies. The initiative divided the state into 10 regions. Region 4, the West Michigan Prosperity Alliance (WMPA), includes 13 counties in West Michigan (see map to the right). WMPA received State funding in 2014 to support projects that address regional economic issues.
The Project
The Macatawa Area Coordinating Council (MACC), in partnership with the Grand Valley Metro Council (GVMC) and the West Michigan Shoreline Regional Development Commission (WMSRDC), submitted a proposal to investigate sustainable funding options to restore and protect Lake Michigan water quality. The proposed project included working with watershed groups within Region 4 to determine funding needs and complete a study of sustainable funding alternatives. The WMPA awarded funding to the project in March 2015.
Project Goals
The project's overall goal is to advance implementation of US Environmental Protection Agency and Michigan Department of Environmental Quality (DEQ) approved watershed management plans. The purpose of the regional initiative is to establish sustainable funding opportunities beyond what is available through competitive grant programs. Doing so will ensure that existing water quality management plans do not become outdated and that implementation is timely, cost-effective and sustainable and organizations overseeing this work are able to retain quality staff. .
Study Phase
Project partners formed the West Michigan Watershed Collaborative (WMWC) during the first phase of the project to bring together watershed partners within the region to discuss priorities and funding needs. WMWC members provided information to compile a West Michigan Watershed Summary (see Documents below). Partners continually update the summary as new watersheds join the collaborative and the state approves new management plans. The project engaged the services of Public Sector Consultants (PSC) during the first phase to conduct a study of funding mechanisms that could provide sustainable revenue for watershed management. PSC completed the study, "A New Approach to Fund Watershed Management: An Evaluation of Funding Mechanisms," in October 2016 (see Documents below).
Strategy Phase
The MACC submitted a request for additional funding to WMPA in July 2016 to continue discussions and analysis of sustainable funding mechanisms. WMPA awarded additional Regional Prosperity Initiative funding in October 2016 to support this next phase of the project. The project team retained the services of PSC to facilitate conversations with WMWC partners and other community leaders to discuss the feasibility of the funding options presented in the study. PSC analyzed and summarized these discussions, then outlined an implementation strategy in November 2017 (see Documents below).
Implementation Phase
Project partners will now focus on implementing the recommendations in the strategy. If you are interested in being involved with this initiative as it moves forward, please sign up below.
Documents
West Michigan Sustainable Watershed Funding Strategy
A New Approach to Fund Watershed Management: An Evaluation of Funding Mechanisms
West Michigan Watershed Summary
West Michigan Watersheds Funding Report
Sustainable Watershed Funding – Public Opinion Poll